A few weeks ago, I took ownership of Samsung's latest range of Smart TVs, the Samsung Series Smart LED TV to take part in #MISSIONSAMSUNG. I love watching TV, so what better way to do it then in high definition? And, who isn't guilty of lazing on the couch and just catching up on their favourite series? We live vicariously through some of my favourite TV characters.
Last week, I received the first mission from Samsung; invite friends over and enjoy a blockbuster film on the Samsung Smart TV. For the next three weeks, we are putting this aesthetically – pleasing TV, with its stunning image quality, through its paces. Challenge no 1 arrived and I saw a number of problems already: hurdle number one: I had to find at least 5 friends to enjoy the movie with. I'm originally from Durban and only recently moved to JHB – will be a year in July. To say this posed a tiny problem would be an understatement! Luckily however, one of my best friend's lives just down the road, and as luck would have it; Lulama, a friend from PE, was in JHB for work. Viola! It wasn't five, but it is after all the quality of the company that counts. Hurdle two? Which movie to watch… That ended up being a non-starter. I was the host…
I must say, when I first received the TV, I figured the "setting-it-up" would give me a headache – installing things and connecting other things wirelessly is my younger brothers' forte – but there it was – I had the TV out the box and installed in less than an hour. The internet connection took a while longer though.
Back to the movie – being a Batman fan, it was easy: Dark Knight. Action, high speed chases and a HD TV made for a perfect combination. I decided to try the screen mirroring function; using my Samsung Galaxy S4 and the TV [they work perfectly together, by the way].
"OMG, I want this TV"; exclaimed my friends when they saw the TV… This was before we even started the movie! The boys were clearly excited, not by the movie so much, rather than the beauty of the TV and what it could do. A fan of gaming, Nceba noticed the many connectivity options on the back of the TV. According to him; connecting gaming consoles would be a breeze; and the HDMI input would mean he'd be able to play many of his games on his laptop; or even stream them via Samsung's Smart Hub online portal. He was visibly impressed!
I don't have a surround sound theatre system at my house; but it turned out I didn't even need it! The sound quality is unbelievable! And the picture quality was – as Lulama exclaimed: "AWESOME!"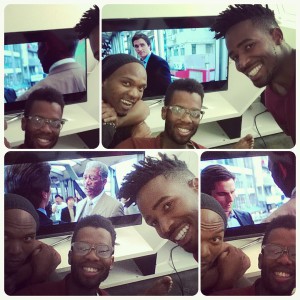 I think the boys are ready to get their hands on their own Samsung Smart LED TV.