Outsurance app – Help is at hand whenever you are in distress, with Outsurance. Having recently launched their new app, Help@Out, Outsurance seeks to assist South Africans whether they are Outsurance clients or not. Brightly coloured in the company's brand colours of green and purple, the app offers functionality and assistance for everybody.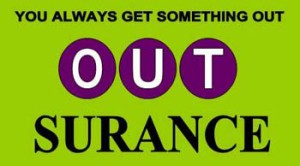 With the app, customers have access to Help@Out, a service provided for Outsurance clients – now available to none clients as well – and provides for 24/7 emergency assistance. Users have an opportunity to utilise the app, free of charge. The app will work in the same way as the service clients receive over the phone, and will also provide the location of the individual/s requiring assistance, using geo-positioning, this in an effort to better and improve emergency response times.
What's probably an equally important feature of the app is the "suggest-a-points man" function. For big metropolis like Tshwane, Johannesburg and Cape Town, the app allows users to request an Outsurance traffic point's man to be dispatched to a busy intersection to help ease the flow of traffic. Utilising your device's GPRS or geo-positioning capabilities, users are required to merely tap on their suggested location to register that there is a need for a point's man.
For existing Outsurance clients, the app also provides self-service options that are both quick and easy. Clients are able to view and use information relating to a number of Outsurance products, including insurance cover, policy information and the updating of the client's crucial contact information. The app can also be used to locate an Outsurance centre closest to you.
Currently available on the Android and Apple's OS operating platforms, the app is available for download – for free – from Google Play and Apple stores. Alternatively, users and prospective users can log onto the Outsurance website for more information.