With content placed over a number of pages, the Samsung Smart Hub is changing the rules of watching TV. A highly advanced gateway, the Smart Hub allows you to search and access content quickly and easily.
Since receiving my TV, we've been inseparable; and with my recent health scare, it became the perfect companion. Mission 2, in the #MissionSamsung challenge arrived and I was looking forward to taking part and becoming healthy and fit in the process alas, my body had other plans. So, because I was booked off for a week, I couldn't exercise, and I did however have a chance to play around in the Smart Hub, this post describes my finds.
Like I've already said, the Smart Hub is separated into a number of pages for the different content types. First up is the Apps page; here, you'll find the recommended and downloaded apps. What is a Smart Hub without a Social page? View trending content on your social networks – send and receive tweets and update your Facebook. The Photos, Music and Video page is for viewing and watching content from your smart phone, tablet or computer. I'd already used my Samsung S4 a number of times to watch videos and movies – screen mirroring as well, works wonderfully, and after the initial set-up, you can connect your phone from anywhere. Samsung's Allshare creates a wireless home network so you can enjoy content from Samsung compatible devices. Now you can easily share content, ranging from photos, videos and music, on your Samsung Smart TV. For a while, it was me, my TV and my phone, aka remote control, aka entertainment centre.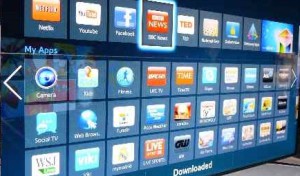 Even though I was stuck in bed, Samsung's Social page ensured I stayed on top of my social circles. Saw my friend's favourite video clips on Facebook and on Twitter; you can also make video calls, via Skype – the day I tried my Skype, my network connection was weak and the connection never established L
There are over 200 Samsung apps; going through them all would've required a little miracle. Some of the apps are useful; some are fun game apps, where you can play against the TV or with friends.