The Samsung Galaxy K Zoom is not just a phone. Replacing the outgoing Samsung Galaxy S4 Zoom, the Galaxy K Zoom is a high-spec Android 4.4 KitKat smartphone on a par with the company's mighty Samsung, albeit without the 1080p screen and flashy fingerprint recognition.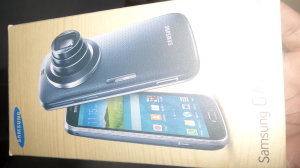 The 20.2mm thick K Zoom is a beast. Nicely rounded, like a pebble according to the blurb, but to incorporate the collapsible lens assembly, Samsung hasn't been able to shrink it much further than its predecessor. It might just fit in your pocket, but it's larger than any compact camera and at 200g, it's considerably heavier too. It was with excitement, that I took delivery of this handset for Samsung #MissionSamsung.
Johannesburg has been misbehaving weather wisely of late, so I was only too glad, when we received some sunlight this past weekend. GALAXY K zoom is packed with power that even professionals can respect. A bright 20.7MP BSI CMOS sensor gives you brilliant shots even in low light, and an onboard ISP chip makes details even sharper.
The Xenon Flash meant I was able to get more natural tones. The Flash is brighter and travels further than LEDs. The device also gives you more control over tricky backlit scenes. A quick touch sets your focus zone. Another touch sets the exposure, and you're set to capture the shot you want with the precise balance of light and clarity.
Discover hundreds of extra "films" at the Pro Suggest Market to download to your GALAXY K zoom. You'll find exactly the pro settings you need to turn your photos into captivating masterpieces.
I discovered a whole new Johannesburg with the Galaxy Zoom! Crisp! User-friendly and a dream if you are a lover taking photos.